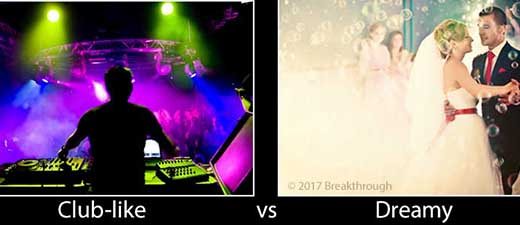 What single factor will determine the success of your wedding? Packed dance floors.
If you're like the typical bridal couple, success is defined by the dance floor.  If it is empty, the wedding is considered a failure.  If it is packed, it is considered a success.
If it is packed all night long, well, that is the gold standard for wedding success, at least according to the many couples we've worked with over the years.
DJ Brian Anderson specializes in packed dance floors …
… and knows how to motivate wedding guests to get out of their seats.
Here's the deal, though.  Each wedding couple is unique.  You've got your own personality and your own idea on what defines class, style, and energy.
Some Alabama brides want their reception to have the feel of a dance club, complete with high energy music and fabulous club lighting.
Others like elegance and dreamy lighting right out of a fairy tale.
And some like a combination.  We're flexible and taylor each event to the style of the wedding couple.
You also need to consider the level of interaction you're looking for from your DJ/MC.  The more interaction, the more dance floor participation.  We are masters at making even your shy guests feel comfortable getting out of their seats and joining the fun on the dance floor.  And we're able to do it without cheezy gimmicks or tacky songs.
And we never, ever make anyone uncomfortable.
How much interaction is right for you?
Let's talk.  Tell us about some of the music you'd like to hear played at your reception.  Tell us about your guest list and venue.
Together, we'll establish the parameters that determine successful weddings.
In our hands, your wedding celebration WILL be a success, complete with a packed dance floor.
Every woman wants great wedding photographs. So what is it exactly that makes wedding photographs great? Let's face it, it begins with you. If you think that you look great in your photos, chances are you're going to love your wedding photographs all the more.
This doesn't discount the ability of your wedding photographer, because good photographers know how to bring out the best in you. But there are some practical things you can work on to make your photographer's job easier and to look fantastic in your wedding photographs.
Super model Tyra Banks offers some good tips:
Extend your neck (see above). Don't be a "no-neck monster." No one likes the "double chin" look.

Smile with your eyes.

Focus your gaze, even if you're not staring directly into the camera. In other words avoid the aimless gaze which creates blandness. You want intensity!

Don't slouch. Stand erect. Stiffen your spine!

Be yourself (as long as you're not slouching!)

Practice your smile. With practice, you know the type of smile that flatters you most. Some prefer an open mouth, toothy smile. Others, a closed mouth smile.

Get your teeth whitened. The reason some don't like open mouth smiles is their teeth. Whitening helps and gives you confidence.

Self-conscious? Work on poses where you're looking away from the camera. If you do, remember the tip above: to focus your eyes on something in your view.

Slightly hold your chin up. According to Ms. Banks, it elongates the neck, de-emphasizes large foreheads, and simply flatters you.

Bend your knee. It accentuates your femininity, as you can see demonstrated by super model Alessandra Ambrosio (below):
Emphasize a shoulder. Simply turn your body to the side, but then turn your shoulders toward the camera. This approach narrows your hips in the photo.
These are simple tips that consistently produce great wedding photographs.
Here's a tip that will produce great wedding entertainment: go with DJ Brian Anderson. Just as a good photographer knows how to bring out the best in his subject, we know how to bring out the most fun in a party. Check us out without obligation. Or give us a call if you'd like some quick pricing info: 256-638-3535.