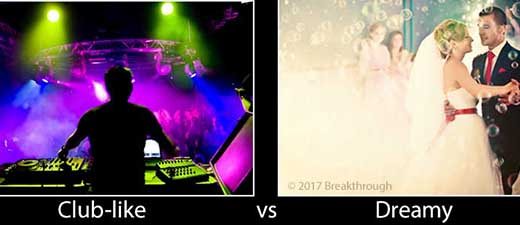 What single factor will determine the success of your wedding? Packed dance floors.
If you're like the typical bridal couple, success is defined by the dance floor.  If it is empty, the wedding is considered a failure.  If it is packed, it is considered a success.
If it is packed all night long, well, that is the gold standard for wedding success, at least according to the many couples we've worked with over the years.
DJ Brian Anderson specializes in packed dance floors …
… and knows how to motivate wedding guests to get out of their seats.
Here's the deal, though.  Each wedding couple is unique.  You've got your own personality and your own idea on what defines class, style, and energy.
Some Alabama brides want their reception to have the feel of a dance club, complete with high energy music and fabulous club lighting.
Others like elegance and dreamy lighting right out of a fairy tale.
And some like a combination.  We're flexible and taylor each event to the style of the wedding couple.
You also need to consider the level of interaction you're looking for from your DJ/MC.  The more interaction, the more dance floor participation.  We are masters at making even your shy guests feel comfortable getting out of their seats and joining the fun on the dance floor.  And we're able to do it without cheezy gimmicks or tacky songs.
And we never, ever make anyone uncomfortable.
How much interaction is right for you?
Let's talk.  Tell us about some of the music you'd like to hear played at your reception.  Tell us about your guest list and venue.
Together, we'll establish the parameters that determine successful weddings.
In our hands, your wedding celebration WILL be a success, complete with a packed dance floor.
People attend movies to laugh and cry. In a way, they look for some of the same things in a wedding toast, but in a couple of minutes instead of a couple of hours. So the two essential wedding toast ingredients? Sentiment and humor.
Leave out either and your toast is incomplete. Load up on too much of on one or the other and your toast will be lopsided, and may ignominiously crash and burn in uncomfortable snickering … or silence.
Too many toasters don't know where they're going in their toast. A nice technique is to begin with a little silly humor. For example:
"I just saw two nuclear technicians getting married. The bride was radiant and the groom was glowing."
Then "marry" the quip to a little sentiment:
"And you know, [bride's name], you truly are radiant today. And as for my friend, [groom's name], we don't typically use the word "glowing" to describe a groom. But I've noticed something about him. Every time your name comes up, his eyes light up. Every time you walk into the room, his eyes light up. Yes, it's safe to say you're glowing today, [groom's name]."
Here's a good use of wedding humor, compliments of stand-up comedienne, Rita Rudner:
"I think men who have a pierced ear are better prepared for marriage. They've experience pain and bought jewelry.
Then link the humor to a little sentiment.
"[Groom's name] never got his ear pierced, but I know he's experienced some pain in his life. And it simply made him stronger. [Bride's name], you're marrying a man of character. When life knocked him down, he dusted himself off and got right back up. That's the kind of guy I like having as a friend. That's the kind of man who knows how to love, honor, and cherish a wife, through good times and bad. Get ready for a great life."
Humor and sentiment make a nice one/two punch when delivering a wedding toast.
How long does it take to make a great toast?
How about 65 seconds? That's all it took for Bill Nighy to knock his toast out of the ballpark in the movie, "About Time," as you can see in the video clip above.
Nighy uses subtle humor when he references B.B. King, as if everyone in the world should know that's one of the three men he honors most. And then he links it to his son with quiet tenderness.
The two essential wedding toast ingredients? Humor and sentiment, dispensed in perfect proportions.
Can a wedding toast be more than 65 seconds? Sure, but keep it down to a few minutes at most. After listening to several toasts, your guests will be itching to get onto the dance floor. That's where we come in. DJ Brian Anderson provides the perfect balance of wedding entertainment that knows how to pack a dance floor. And you'll love the high quality and fabulous value of our package pricing. Learn more without obligation.